Lab News
The Bassell Lab Publishes "Deficiency of the Survival of Motor Neuron Protein Impairs mRNA Localization and Local Translation in the Growth Cone of Motor Neurons," in the Journal of Neurosicence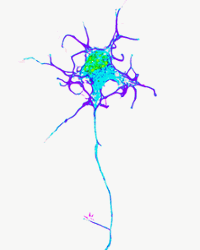 Cover legend: This fluorescent image depicts a primary cultured motor neuron transfected with a fluorescent protein (shown in cyan) and stained with the F-actin binding protein phalloidin (shown in purple) and DNA dye DAPI (shown in green) highlighting the complex dendritic arbor and long axon in this high degree of morphological polarization. The spinal muscular atrophy (SMA) disease protein SMN facilitates the subcellular localization and local translation of mRNAs such as GAP43 along the long axonal processes. For more information, see the article by Fallini, Donlin-Asp et al.
Bassell Lab Group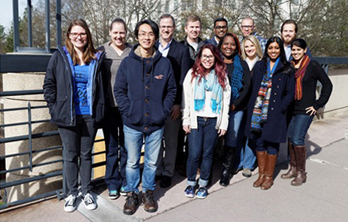 Funding
We gratefully acknowledge current funding from these agencies:
Recent Publications
Gross C, Banerjee A, Tiwari D, Longo F, White AR, Allen AG, Schroeder-Carter LM, Krzeski JC, Elsayed NA, Puckett R, Klann E, Rivero RA, Gourley SL, Bassell GJ. Isoform-selective phosphoinositide 3-kinase inhibition ameliorates a broad range of fragile X syndrome-associated deficits in a mouse model. Neuropsychopharmacology 2018.
Thomas KT, Anderson BR, Shah N, Zimmer SE, Hawkins D, Valdez AN, Gu Q, Bassell GJ. Cell Rep. Inhibition of the Schizophrenia-Associated MicroRNA miR-137 Disrupts Nrg1α Neurodevelopmental Signal Transduction. Cell Reports 2017 Jul 5;20(1):1-12. [PMID: 28683304].